02 Sep

Episode 2 – "The Island in the Lake" – Daily Darkness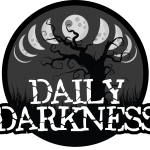 Welcome to Episode 2 of Daily Darkness, hosted by Steve Taylor.
In this episode of Daily Darkness, our tale of terror comes to us from Dr. Creepen. If you enjoy what you hear, you can listen to more of them on their YouTube channel. You can also follow them on Facebook, Twitter, Instagram and SoundCloud to get their latest updates.
Tonight's tale was written by author Names James 0933, and is voiced by Dr. Creepen. Original score and sound design also by Dr. Creepen.
We present to you: "The Island in the Lake."
For full episode details, see the episode page on our website today: