01 Mar

S1E04 – Horror Hill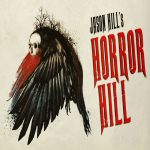 In this fourth episode of Horror Hill, we bring you two spine-tingling tales from David Sharrock and Soren Narnia, performed by host and narrator Jason Hill, one a a meditation on the power of the written work and the cruel things that lurk within the dusty pages of forgotten tomes, the second concerning visitors in the dark night from places even darker still.
Stories featured in this episode
See full episode details, including the text of the featured stories, here: 
http://www.simplyscarypodcast.com/series/horror-hill/s1e04-hh/
Podcast executive produced and directed by: Craig Groshek
Podcast produced by: Craig Groshek
Podcast hosted by: Jason Hill
Stories performed by: Jason Hill
Sound design by: Luke Hodgkinson
Script by: Craig Groshek & Jason Hill
Original artwork by: Jason Hill
Audio program © 2018 Chilling Entertainment, LLC – All Rights Reserved. No reproduction or use of this content is permitted without the express written consent of Chilling Entertainment, LLC. The copyrights for each story are held by the respective authors.