22 Mar

S1E07 – Horror Hill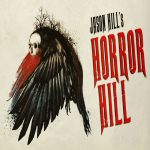 In this seventh episode of Horror Hill, we bring you a terrifying tale from Brian Hodge, performed by host and narrator Jason Hill, a folksy tome of abyssal Americana that we assure you is just like mom used to make. If you've got the stomach for it, allow us to take you on a little trip down memory lane, to an idyllic American town stuck in time, where that time… is running out.
See full episode details, including the text of the featured stories, here: 
http://www.simplyscarypodcast.com/series/horror-hill/s1e07-hh/
Podcast executive produced and directed by: Craig Groshek
Podcast produced by: Craig Groshek
Podcast hosted by: Jason Hill
Stories performed by: Jason Hill
Sound design by: Luke Hodgkinson
Script by: Craig Groshek & Jason Hill
Original artwork by: Jason Hill
Audio program © 2018 Chilling Entertainment, LLC – All Rights Reserved. No reproduction or use of this content is permitted without the express written consent of Chilling Entertainment, LLC. The copyrights for each story are held by the respective authors.