29 Mar

S1E08 – Horror Hill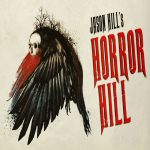 In this eighth episode of Horror Hill, Halloween has come early, as we bring you two terrifying tales concerning treacherous tricks and terrifying treats, from authors Adam Howe and Kevin David Anderson, performed by host and narrator Jason Hill. Our first is a morality tale of crime, punishment and sickly sweet revenge, the second an ode to the protective powers of sacred squash and a Samhain tradition best not taken lightly.
See full episode details, including the text of the featured stories, here: 
Podcast executive produced and directed by: Craig Groshek
Podcast produced by: Craig Groshek
Podcast hosted by: Jason Hill
Stories performed by: Jason Hill
Sound design by: Luke Hodgkinson
Script by: Craig Groshek & Jason Hill
Original artwork by: Jason Hill
Audio program © 2018 Chilling Entertainment, LLC – All Rights Reserved. No reproduction or use of this content is permitted without the express written consent of Chilling Entertainment, LLC. The copyrights for each story are held by the respective authors.