12 Apr

S1E10 – Horror Hill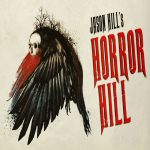 In this tenth episode of 
Horror Hill
, we bring you two terrifying tales from authors 
Scott Emerson
 and 
Christa Carmen
, performed by host and narrator 
Jason Hill
, the first an eye-opener for you weary night owls out there who, above all else, can appreciate the importance of a balanced breakfast, the second offering an indulgence in fearful fan service, so pick up your favorite boom-stick and join me as we hail to the king.
Stories featured in this episode
See full episode details, including the text of the featured stories, here:
Podcast executive produced and directed by: Craig Groshek
Podcast produced by: Craig Groshek
Podcast hosted by: Jason Hill
Stories performed by: Jason Hill
Sound design by: Luke Hodgkinson
Script by: Craig Groshek & Jason Hill
Original artwork by: Jason Hill
Audio program © 2018 Chilling Entertainment, LLC – All Rights Reserved. No reproduction or use of this content is permitted without the express written consent of Chilling Entertainment, LLC. The copyrights for each story are held by the respective authors.