26 Apr

S1E12 – Horror Hill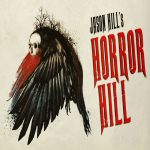 In this twelfth episode of Horror Hill, we bring you part one of a two-part terrifying tale for the history books, from author Artyom Dereschuk, performed by host and narrator Jason Hill, concerning the last surviving record of an American military deployment, and our protagonist's efforts to get to the bottom of what's fishy in the loathsome town of Innsmouth, Massachusetts. Be sure to join us next week for S1E13, when we conclude the author's sinister soliloquy. 
Stories featured in this episode
See full episode details, including the text of the featured stories, here:
http://www.simplyscarypodcast.com/series/horror-hill/s1e12-hh/
Podcast executive produced and directed by: Craig Groshek
Podcast produced by: Craig Groshek
Podcast hosted by: Jason Hill
Stories performed by: Jason Hill
Sound design by: Luke Hodgkinson and Felipe Ojeda
Script by: Craig Groshek & Jason Hill
Original artwork by: Jason Hill
Audio program © 2018 Chilling Entertainment, LLC – All Rights Reserved. No reproduction or use of this content is permitted without the express written consent of Chilling Entertainment, LLC. The copyrights for each story are held by the respective authors.