19 Jan

The Simply Scary Podcast – Season 2, Episode 1 – "Screams and Whispers"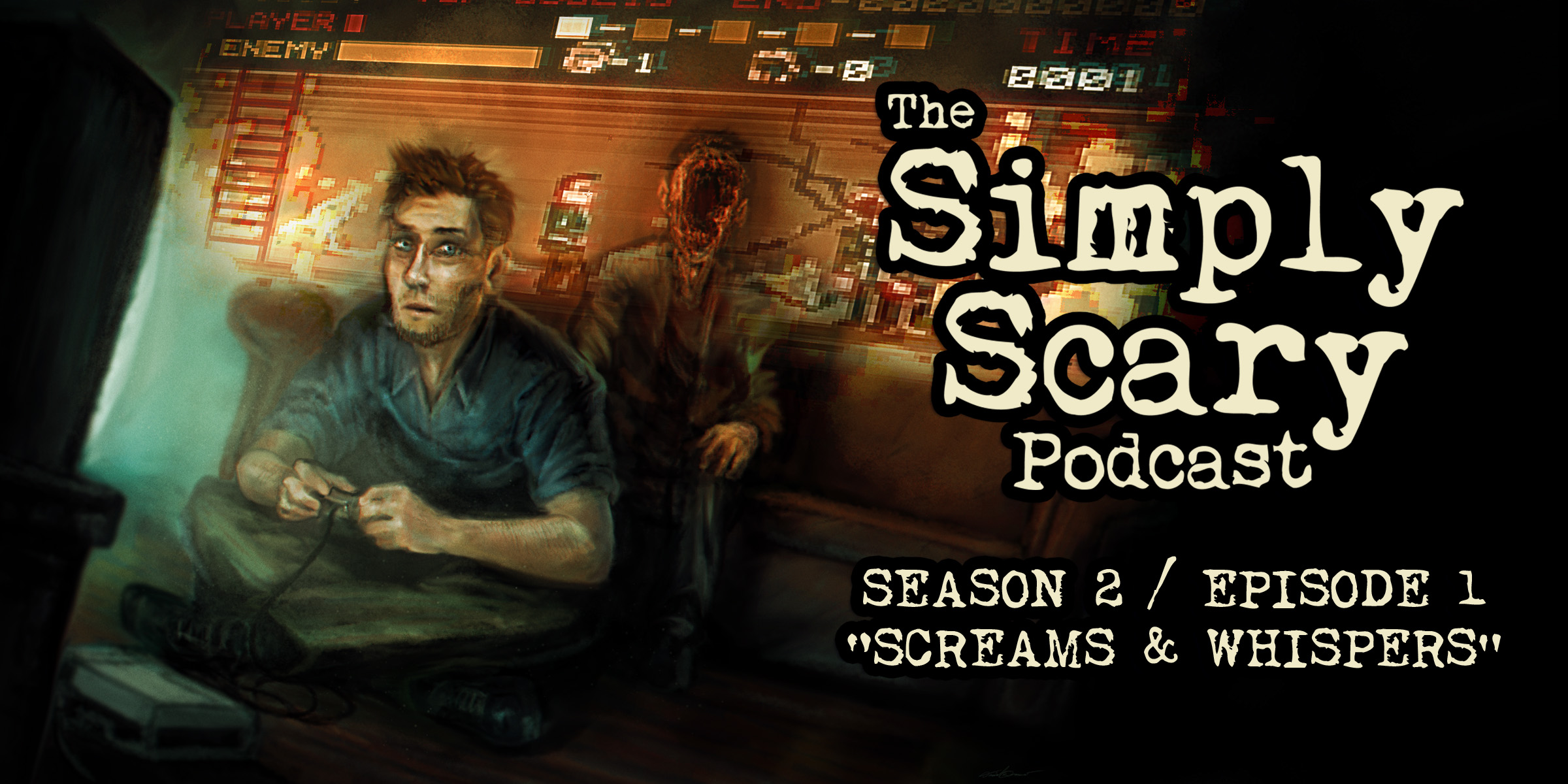 Welcome to Season 2, Episode 1 of The Simply Scary Podcast. This episode of our program is hosted by G.M. Danielson.
They say that sometimes the most frightening things are those that you cannot see. And from our horrifying experiences, you've become very familiar with how effective unsettling sounds can be. You know how a deep rumbling unsettles your tummy and your soul; how an almost silent whisper blowing by your ear sends your courage deep into hiding; how both the scurrying of claws on a hard surface and the bellowing of a demonic entity turn the spine to jelly. So for our opening episode of the second season of The Simply Scary Podcast, we devote our exploration to both ends of the audio spectrum, both "Screams and Whispers."
A NOTE TO LISTENERS: The episode available here features the first two stories only. To access the full-length, advertisement-free episode, which contains all four stories, click here, or simply sign up to become a Patron today at Chilling Tales for Dark Nights. In our Patrons-only members area, you'll get access to HQ MP3 copies of all of our podcast episodes – totally free of advertisements – plus access to hundreds of stand-alone audio horror productions dating back to 2012. You'll also be helping to support this program and the team that bring it to you every week.  Thank you for your support!
"Ladder to Oblivion" written by Max Shephard and performed by Kristin Holland. Production and score by Ronnie Dickison. We all remember the nostalgia of childhood and how certain experiences can draw you closer to those days of yore. But when a young man's family life takes a tragic turn, he may find the link to his childhood could be a curse that has been released on an unsuspecting world.
"Nola" written by Anton Scheller and performed by Jordan Lester. Production and score by Ronnie Dickison. Children love to build and connect things. In this tale, a mother tries to piece together the mystery of her son's new construction project. But it's what she will hear that will resurrect something frighteningly ominous.
"Double Bass Kick" written by Elias Witherow and performed by Jesse Cornett. Production and score by Jesse Cornett. On tour with his band, a young man revels in the glory that is heavy metal stardom, including all the excesses that go with it. But as the rocket ship of fame carries them away, a new addiction threatens to bring them back down to Earth… or is the addiction just claiming payment for services rendered?
"Jinnu" written by Meagan J. Meehan and performed by Ashley Tolfo. Production and score by Jesse Cornett. In this tale, we meet a girl who is growing up in dire poverty in a bygone era, but she does this from behind the walls of an extravagant mansion. There is a legacy of refinement that her generation of the family has never tasted. But her lifestyle malaise is interrupted by a voice ringing in her head. That voice has an offer, one which will be very tempting to her, but disastrous for everyone that surrounds her.
Podcast executive produced and directed by: Craig Groshek
Podcast produced by: Jesse Cornett
Podcast hosted by: G.M. Danielson
Music & sound design by: Jesse Cornett and Ronnie Dickison
Script by: Jesse Cornett & Dustin Koski
Original artwork by: David Romero
Audio program © 2016 Chilling Entertainment, LLC – All Rights Reserved. No reproduction or use of this content is permitted without the express written consent of Chilling Entertainment, LLC. The copyrights for individually featured stories are held by the respective authors.
[youtube]https://www.youtube.com/watch?v=0-jJSvZSrKo[/youtube]