02 Feb

The Simply Scary Podcast – Season 2, Episode 2 – "Entities and Visions"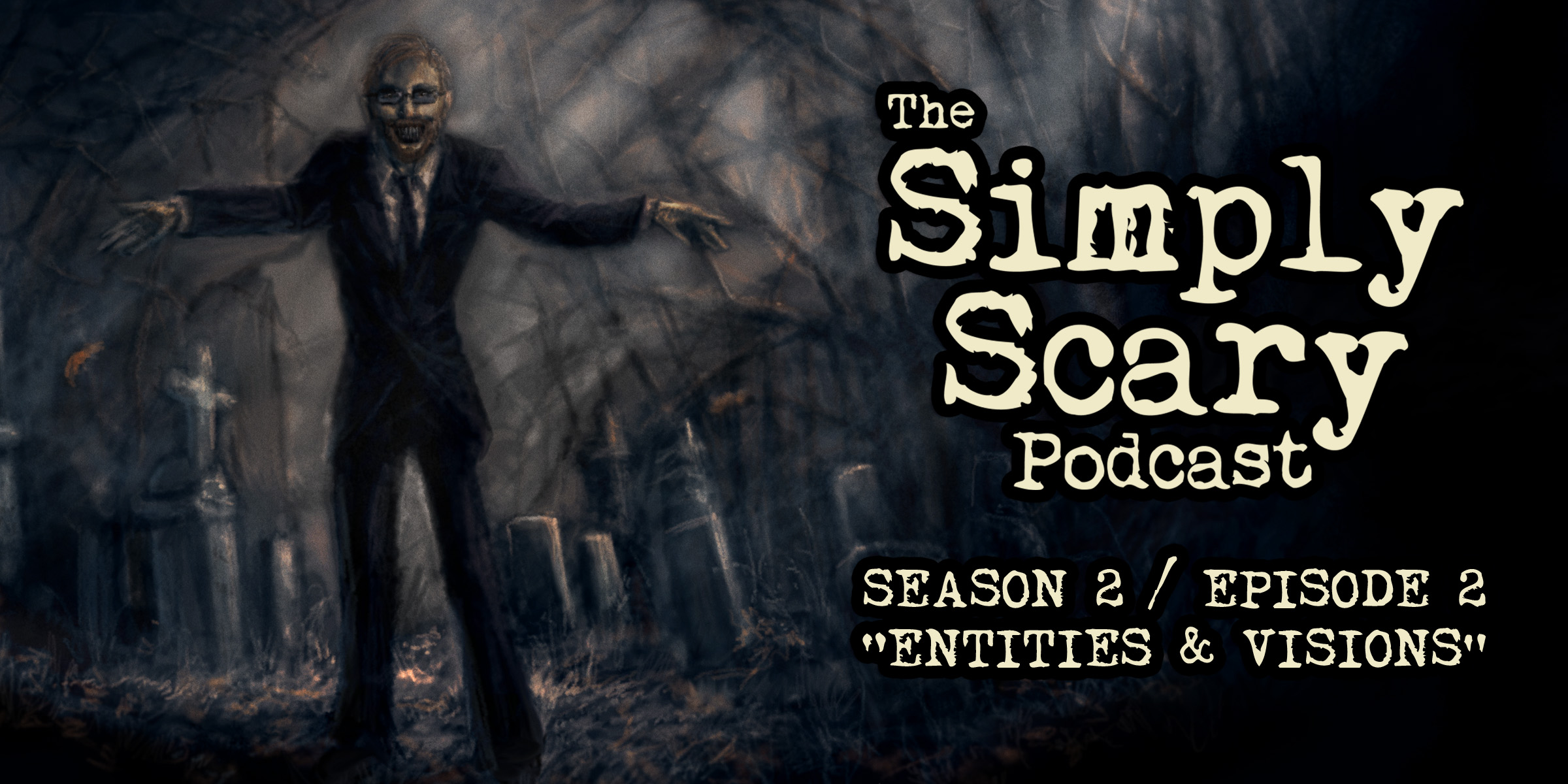 Welcome to Season 2, Episode 2 of The Simply Scary Podcast. This episode of our program is hosted by G.M. Danielson.
In this episode we have assembled this convocation to undergo an expedition of haunting proportions, for we are summoning and being summoned. Prophetic perception taps into a realm that drips with malignant spirits and death is everywhere. Our tales promise to besiege you with consternation, so beware of this episode' "Entities and Visions."
A NOTE TO LISTENERS: The episode available here features the first two stories only. To access the full-length, advertisement-free episode, which contains all four stories, sign up to become a Patron today at Chilling Tales for Dark Nights. In our Patrons-only members area, you'll get access to HQ MP3 copies of all of our podcast episodes – totally free of advertisements – plus access to hundreds of stand-alone audio horror productions dating back to 2012. You'll also be helping to support this program and the team that bring it to you every week.  Thank you for your support!
Original illustration of "'Abandoned" by David Romero
"The Conversion" written by Daniel Cornell and performed by Jesse Cornett, featuring John Evans (Bartholomew Basso), and Brindolyn McNair (Mrs. Basso). Production and score by Jesse Cornett. This is the story of a priest who is newly confirmed and eager to prove himself to his congregation, the hierarchy, and the almighty. When a seemingly harmless request from a parishioner puts the young Father in audience with a supposedly reformed heretic seeking guidance from the Church, the figure faces the priest with a decision he must pray upon. But will that decision put him and his faith in mortal danger?
"Everybody Loves a Parade" written by Charlie Davenport and performed by Jason Hill, featuring Olivia Steele (Shelby). Production and score by Ronnie Dickison. Peter has had a recurring vision since moving to California to raise a family. His surrealistic experiences portend the coming of something wicked indeed. But it is the eventuality of his nightmare that will haunt him in ways he couldn't possibly imagine.   
"Abandoned" written by Sandra R. Campbell and performed by Olivia Steele, featuring Marshall Ragsdale (Luke) and Jesse Cornett (Uncle Jay). Production and score by Ronnie Dickison. In this tale, we join a young woman recounting the night her family was torn apart. But her Father's way of dealing with the tragedy sets up events that will be even more horrifying than the you would dare to believe.
"The Seer of Possibilities" written by Thomas O. Wagner and performed by Jesse Cornett, featuring Joseph Gable (Jack), Ashley Tolfo (Donna), Jordan Lester (Allie) and Eden (The Seer). Production and score by Jesse Cornett. This story demonstrates that everything happens for a reason. In it, we join an average office worker as he begins to receive strange messages on his computer. The enigmatic entity gives him seemingly harmless, little "tasks" to accomplish. His small tasks become a long-lasting effort and rewards seem to follow their completion, often with grave consequences for others. Soon the repercussions of his actions culminate in a horrific realization as these events unfold in terrifying reality.
Podcast executive produced and directed by: Craig Groshek
Podcast produced by: Jesse Cornett
Podcast hosted by: G.M. Danielson
Music & sound design by: Jesse Cornett and Ronnie Dickison
Script by: Jesse Cornett & Dustin Koski
Original artwork by: David Romero
Audio program © 2016 Chilling Entertainment, LLC – All Rights Reserved. No reproduction or use of this content is permitted without the express written consent of Chilling Entertainment, LLC. The copyrights for individually featured stories are held by the respective authors.
[youtube]https://www.youtube.com/watch?v=KqdI0cx2EPc[/youtube]