09 Mar

The Simply Scary Podcast – Season 2, Episode 4 – "Through a Glass Darkly"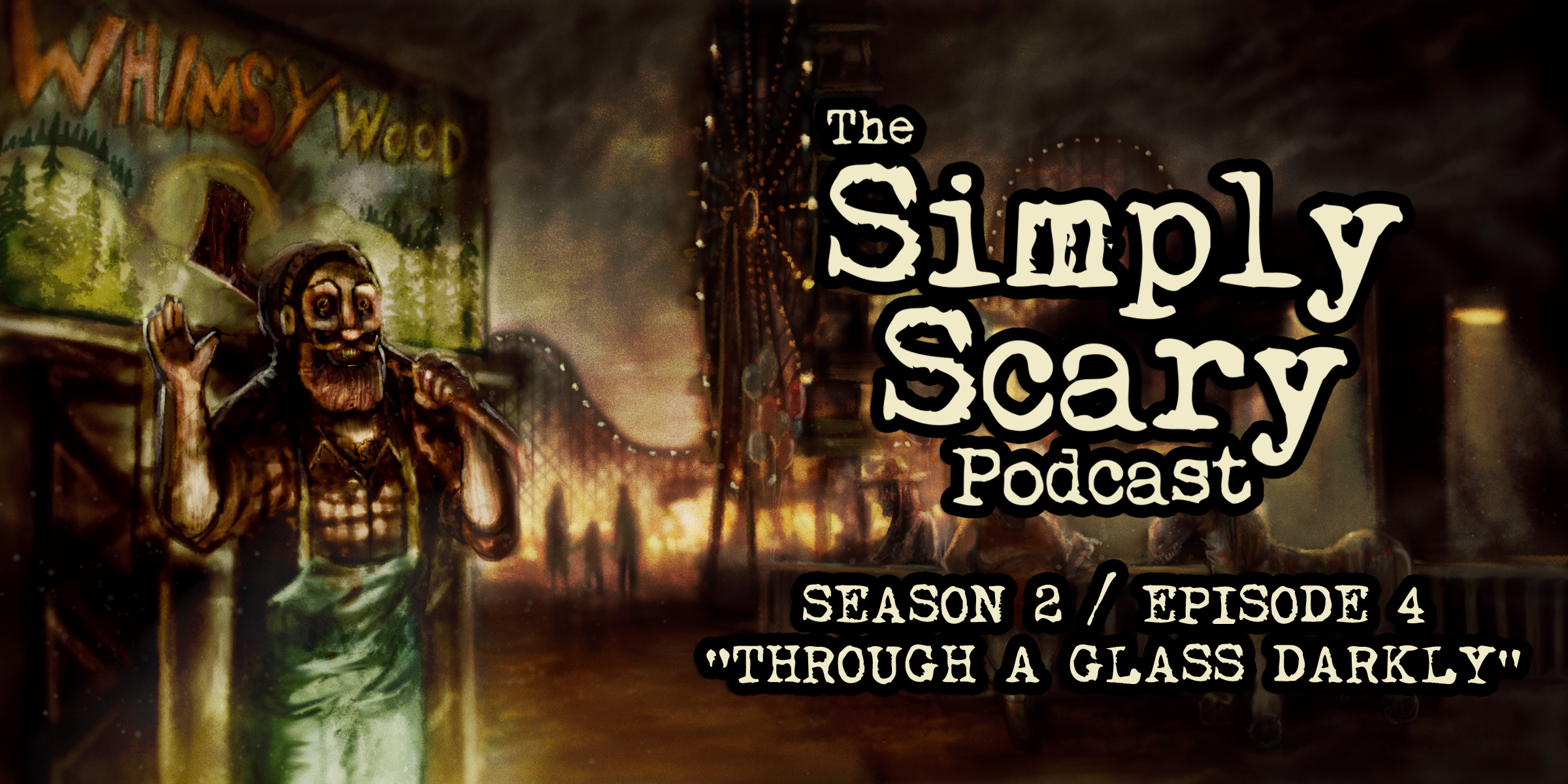 [social_share show_share_icon="yes"]
Welcome to Season 2, Episode 4 of The Simply Scary Podcast. This episode of our program is hosted by G.M. Danielson.
In this episode, we share with you how scarring certain coming-of-age experiences can be, tapping into the hidden horrors of adolescent anxiety,  which promises to shatter your own dear recollections. In doing so, the mirrors of your mind's eyes shall become a portal to your long-suppressed and darkest of (not-so-fond) memories.  Make way for this truly terrifying installment, as we explore "Through a Glass Darkly."
A NOTE TO LISTENERS: The episode available here features the first 3 stories only. To access the full-length, advertisement-free episode, which contains all 5 stories, sign up to become a Patron today at Chilling Tales for Dark Nights. In our Patrons-only members area, you'll get access to HQ MP3 copies of all of our podcast episodes – totally free of advertisements – plus access to hundreds of stand-alone audio horror productions dating back to 2012. You'll also be helping to support this program and the team that bring it to you every week.  Thank you for your support!
"Hi There, Sweetie" written by Michael Johnston and performed by Jason Hill, featuring Eden and Melissa Exelberth. Production and score by Ronnie Dickison. To awaken to something lingering at the foot of your bed is bad enough, but when that shadowy thing will not go away, a word of advice: don't close your eyes.
"Teeny-Tiny" written by Max Aaron of UnsettlingStories.com and performed by Jordan Lester. Production and score by Ronnie Dickison. This tale takes you into the twisting mind of disturbed youth, where perceptual dysmorphia instigates a desperately dangerous risk and horrifying consequences. Be warned, this story contains disturbing subject matter and may illicit uneasy reactions.
"Whimsywood" written by Christopher "Slimebeast" Wolf and performed by Nick Goroff, featuring the Simply Scary Podcast cast. Production and score by Jesse Cornett. This tale transport you to a place of fun and frolic that promises to be everything the highway billboards told you it would be… if you make it out alive.
"World's Best School Psychologist" written by CreepyCarbs and performed by Joseph Gable, featuring Steve Taylor and the Simply Scary Podcast cast. Production and score by Jesse Cornett. In this tale, we introduce you to a school administrator whose good intentions for the well-being of students may be questionable at best.
"Darren" written by Benny Harrington and performed by Steve G, featuring Aiden, Aaron and Heather Ordover, and the Simply Scary Podcast cast. Production and score by Jesse Cornett. Meet Darren. He's like any other sheltered child today, except his home life leaves a bit to be desired. His mannerisms are a little off as well, and as you get to know the young man a little better, you too will come to know just how much evil can exist in such an unassuming, yet creepy little package.
Podcast executive produced and directed by: Craig Groshek
Podcast produced by: Jesse Cornett
Podcast hosted by: G.M. Danielson
Music & sound design by: Jesse Cornett and Ronnie Dickison
Script by: Jesse Cornett
Original artwork by: David Romero
Audio program © 2017 Chilling Entertainment, LLC – All Rights Reserved. No reproduction or use of this content is permitted without the express written consent of Chilling Entertainment, LLC. The copyrights for each story are held by the respective authors.
[youtube]https://www.youtube.com/watch?v=QF5V0uFQ0TY[/youtube]