07 Jun

The Simply Scary Podcast – Season 2, Episode 9 – "Neither Seen Nor Heard From"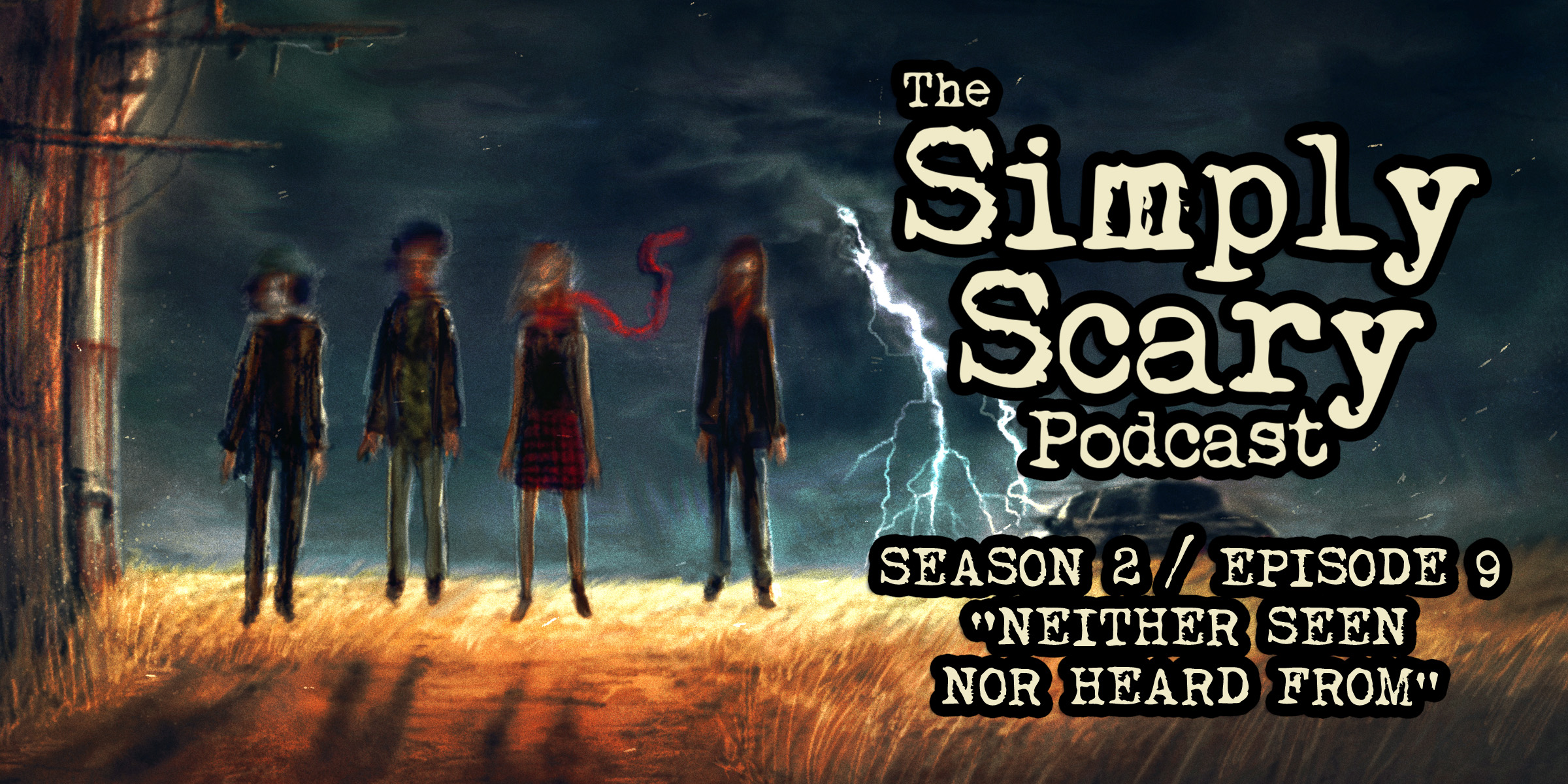 [social_share show_share_icon="yes"]
Welcome to Season 2, Episode 9 of The Simply Scary Podcast. This episode of our program is hosted by G.M. Danielson.
In our continuing effort to spotlight up and coming authors, this episode is dedicated to works introducing you to the frightening worlds of author Cosmas McCoy. His work has been featured in print as part of the anthology "What World Is This?: And Other Stories". In addition, he has written screenplays for horror films. This studying Catholic priest takes time from his higher works in America's Northeastern corridor to delve into the dark world of the imagination to unleash upon us the fruits of his haunting universe. Join us as we take a journey toward the malevolent with today's episode, "Neither Seen Nor Heard From."
"The Distillery Incident" written by Cosmas McCoy and performed by Benjamin Lisman (Damon Hackman/narrator), featuring Nathaniel Hawkins (Detective Grevinsky) and Brindolyn McNair (911 dispatcher). Production by Jesse Cornett. Score by Jesse Cornett. The world is littered with sites forgotten by a constantly forward moving society. A plethora of unattended former industrial areas, long-shuttered hospitals and abandoned housing facilities have birthed a sub-cultural adventure sport that takes advantage of these foreboding places. "Urban exploration" seeks the thrill of the unknown in the forgotten. But, sometimes, what lurks in the darkness may be best left forgotten. 

 DOWNLOAD THIS STORY NOW (MP3)
"And They Burn" written by Cosmas McCoy and performed by Josh Irish, featuring John Evans (Connelly), Jason Hill (Mark), David Tyson (Devvy), Jesse Cornett (Terrance), Otis Jiry (Culp), and Steve Taylor (Hank). Production by Karen Gunnarsdóttir and Jesse Cornett. Score by Jesse Cornett. Years ago, a tragedy unfolded leaving few survivors. Now, eight men travel into the wilderness ignorant of that tragedy. But what awaits them in the isolated countryside seethes with a burning hatred. 

 DOWNLOAD THIS STORY NOW (MP3)
"The Wretched Stair" written by Cosmas McCoy and performed by Pontus Danielsson, featuring G.M. Danielson (John de Luboc), Addison Peacock (Philomena), and Todd Farrell (Inspector Congar). Production by Chazz Ravenelle and Jesse Cornett. Score by Jesse Cornett. A veil of death hangs upon the de Luboc household. Having lost his wife and daughter, a father happens upon a place with a staircase that offers a miracle in the making. But this Jacob's Ladder soon unleashes a nightmare that will change their world forever. 

 DOWNLOAD THIS STORY NOW (MP3)
"We Let It In" written by Cosmas McCoy and performed by Kyra Greif (young narrator), featuring Aiden Ordover (young Andy), Aaron Ordover (adult Andy),  Mary Naugle (mom), Ashley Tolfo (Missy), Steve Taylor (father/Bill), and Jesse Cornett (the "thing"). Production by Felipe Ojeda and Jesse Cornett. Score by Jesse Cornett. In this tale, we bear witness to an act of childish naivety that unleashes a terror that is all too real. A young girl in her journey through life is accompanied by a dominating presence, about which there is nothing she can do, for once the door is opened, it cannot be closed again. And a beastly craving will not be satiated with anything less than her soul. 

 DOWNLOAD THIS STORY NOW (MP3)
LISTEN TO THE EPISODE NOW
A NOTE TO LISTENERS: The episode available here features the first 2 stories only. To access the full-length, advertisement-free episode, which contains all 4 stories, sign up to become a Patron today at Chilling Tales for Dark Nights. In our Patrons-only members area, you'll get access to HQ MP3 copies of all of our podcast episodes – totally free of advertisements – plus access to hundreds of stand-alone audio horror productions dating back to 2012. You'll also be helping to support this program and the team that bring it to you every week.  Thank you for your support!