29 Nov

The Simply Scary Podcast – Season 1, Episode 11 – "Such Sweet Sorrow"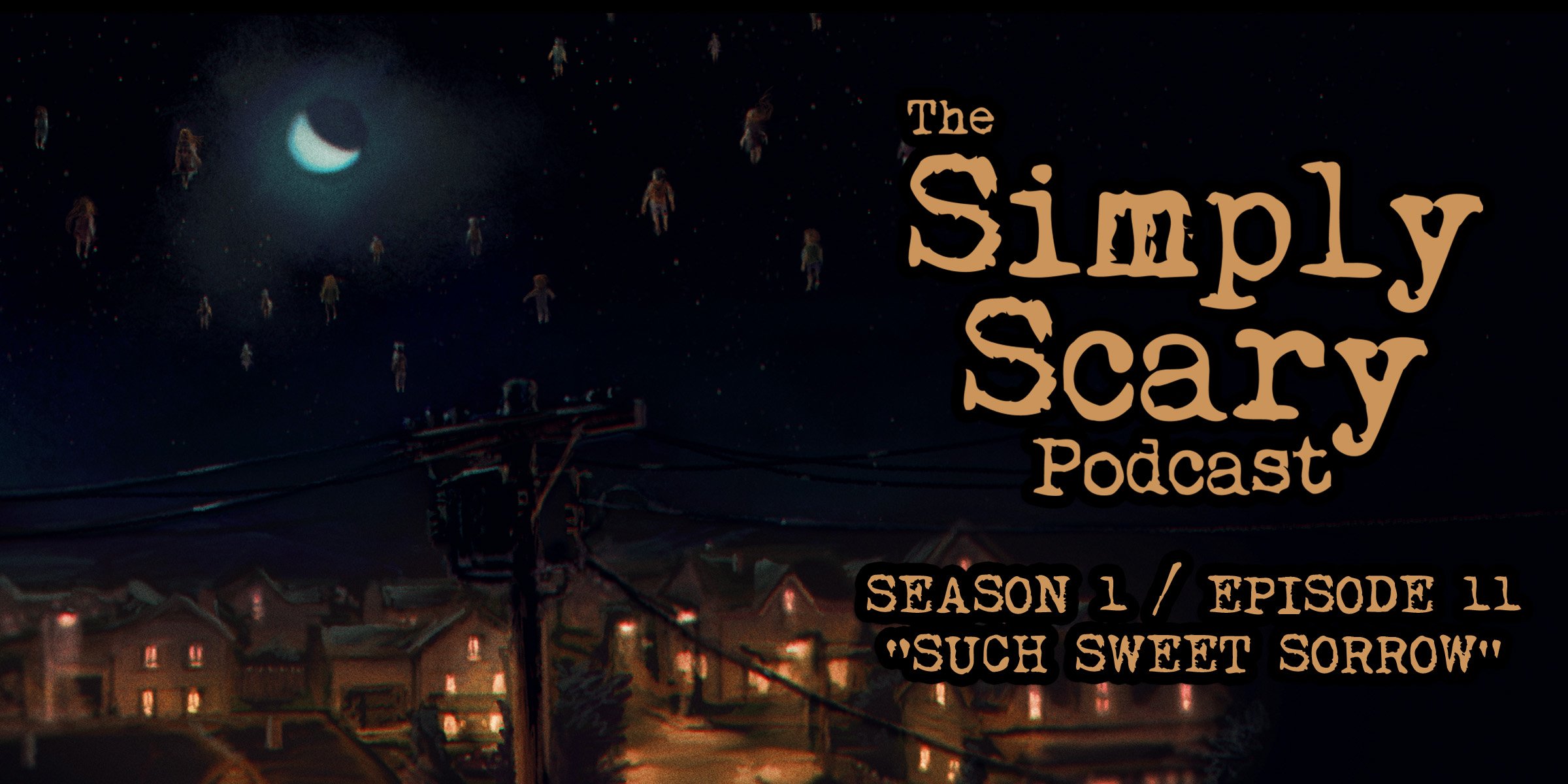 [social_share show_share_icon="yes"]
Welcome to Season 1, Episode 11 of The Simply Scary Podcast. Our eleventh in our series is once again hosted by G.M. Danielson.
When we think of horror, we may imagine the immediate dangers of things such as being stalked by a malicious predator, getting lost with no hope of return, and painfully tragic accidents and injuries, or perhaps some other life-threatening situation. But what of the people who are left behind after the monster does its work, or when the nightmare is finally over? "What horrors await them?" you may ask. Will they be the next to meet with foul circumstances, or will something far worse befall them? Something, perhaps, like a long, lonely life missing someone dear to them? Whatever the answer may be, the partings of these stories will certainly be "Such Sweet Sorrow."
Original illustration of "The Children of Peculiar" by David Romero
"Cricket" written by T.K. Morcambe and performed by Pendleton Arkwright. Production and score by Jesse Cornett. A tale about a man whose small town world changes when he moves into the big city, an existence devoid of the sounds of home. When growing up, he had what appeared to him to be a minor incident that left him feeling uneasy, and which filled him with a sense of dread. The incident should have served as a lesson about the fragility of life. But what seemed like a small event from childhood will soon spiral into a tragedy in horrific ways that will not be so easily forgotten.  
"The Children of Peculiar" written by Maxwell Malone and performed by Mary Naugle. Production and score by Jesse Cornett. In this fretful expedition into the darkest reaches we visit a picturesque hamlet. Despite the generally benign atmosphere and beautiful scenery, it is a town that lives under the veil of a sinister mystery… What is happening to the town's children?
"Meatz" written by Kevin Thomas and performed by Christopher Keegan. Production and score by Jesse Cornett. Meet two one-time school friends who have grown apart since the days at their Alma Mater. Always a target for teasing, the most diminutive of the friends, not-so-affectionately nicknamed "Wasp," turns to a cutting-edge gym with a very effective exercise program in an effort to change his appearance. The results of his new lifestyle astonish his former friend and classmate. But, as Wasp's frame becomes more and more immense, the old adage that about there being "too much of a good thing" comes to mind, and the explosive secrets behind the gym and its odd members comes to light in a rather sinister manner.
Podcast executive produced and directed by: Craig Groshek
Podcast produced by: Jesse Cornett
Podcast hosted by: G.M. Danielson
Music & sound design by: Jesse Cornett
Script by: Dustin Koski and Jesse Cornett
Original artwork by: David Romero

Audio program © 2016 Chilling Entertainment, LLC – All Rights Reserved. No reproduction or use of this content is permitted without the express written consent of Chilling Entertainment, LLC. The copyrights for individually featured stories are held by the respective authors.
[youtube]https://www.youtube.com/watch?v=XMLDpRO9pPU[/youtube]